Mossyrock Brochure 2015 - Page 1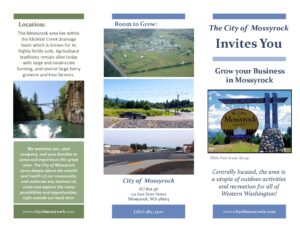 Mossyrock Brochure 2015 - Page 2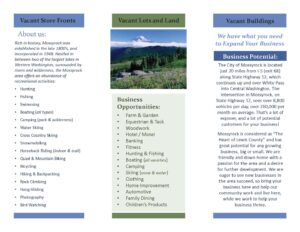 Emergency Healthcare:
Arbor Health, Morton Hospital
24-hour emergency department
521 Adams Ave., Morton
The hospital can be reached at 360-496-5112
(Drive East on US Hwy 12 for approximately 10.5 miles. Follow the blue Hospital signs to the hospital.)
Public outreach department of The Mesothelioma Center
https://www.asbestos.com/veterans/
Alzheimer Support
https://www.alzheimersupport.com/memory-care/washington/
Nursing Home Abuse Guide:
levinperconti.com/everything-you-need-to-know-about-nursing-home-abuse.html
RetireGuide  According to the U.S. Department of Veterans Affairs, signing up for Medicare gives veterans more options, such as receiving coverage if they need to go to a non-VA hospital or doctor
retireguide.com/medicare/
retireguide.com/guides/medicare-for-veterans/
Mossyrock Growth Management Directory:
Growth Management Directory for 2008
Growth Management 2020 (Updating)
GMA survey for online 12-1-2020 / CIUDAD DE MOSSYROCK_EJL Edit 12-3-2020
GMA scope of update and schedule Final 12-1-2020
Public Participation GMA Final 12-1-2020
Amended Public Participation Plan Feb 2021
Amended Scope of Work Feb 2021
GMD SEPA NDS 20210524 Mossyrock SEPA Determination
GMD 20210524 Notice Public Hearing
Mossyrock GMD Sepa Checklist 2021
Mossyrock School District Map Public Hearing
Legal Notice is hereby given that the Planning Commission of the City of Mossyrock will hold a public hearing on the Proposed Changes & environmental analysis for the Growth Management Directory Update on Tuesday March 9, 2021 at 5:45pm at the Mossyrock Community Center.  The Proposed Changes & environmental analysis have been filed with the Clerk's office and are available to the public upon request.  Comments may be made in writing or by appearing via zoom before the Planning Commission on the hearing date.
To submit the online survey or if you have any questions regarding Growth Management, please contact [email protected] 
CITY OF MOSSYROCK
PLANNING COMMISSION
SPECIAL MEETING AGENDA
******************************************************************************
Wednesday, April 7, 2021
5:30 P.M.
Call to Order
Roll Call
Approval of The Agenda
Public Comments
Public Hearings
Unfinished Business

2021 Growth Management Directory Review

New Business

2021 Growth Management Directory Recommendation to City Council for submission to Department of Commerce.

Reports from Staff & Commission Members
Adjournment
Mossyrock Community Center
219 E. State St.
Mossyrock, Wa  98564
Notice of Public Hearing: 2021 City of Mossyrock Growth Management Directory Adoption and Lewis County Critical Area Ordinance No. 491 Adoption
WHEN:
June 24, 2021 @ 6:00 pm – 6:30 pm
The Mossyrock City Council will conduct a public hearing at which the below-referenced project will be considered. Interested community members are invited to attend this public hearing and to provide comments, either orally or in writing.
Project Description: The 2021 City of Mossyrock Growth Management Directory adoption and the Lewis County Critical Area Ordinance No. 491 adoption.
Hearing Date: Thursday, June 24, 2021                           Hearing Time: 6:00 PM
Hearing Location: Mossyrock Community Center.
Additional Information: The City Council agenda will be posted on the City's website before the meeting. There are occasions when meetings may be postponed, or items removed from an agenda. It is therefore advised that you confirm that the meeting is going to be held and that this item is on the agenda. Upon reasonable notice to the City Clerk's Office (360-983-3300), the City will make reasonable effort to accommodate those who need special assistance to attend the City Council meeting. More information may be found on this website.
City Contact: The file for this project is maintained at City Hall. If you have questions please contact Linda Hannon, City Clerk at 360-983-3300 or [email protected]